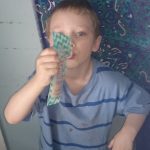 So Gabe has been asking me over and over to buy him the disposable apple sauce pouches in the store. He's six and the pouches at the store are way too small for him, not to mention the price is ridiculous. So I jumped at the chance to try these. They a nice amount of applesauce or other puree and they are super easy to wash. I recommend drying them upside on pegs. They close well as long as you do not overfill them. The lids screw on fine. The colors are bright and cheery. He is thrilled to be able to take a little snack along and I love that it doesn't break the bank!
We filled them up with applesauce and took them along to the park. The size is not really practical for bigger kids. They are empty in a minute. But they are fun, anyway. I'd prefer if they were bigger and American made. (Made in China, sadly.)
#RevelaeKids provided me with these pouches at a discount in exchange for my honest review. You can get more info about them by clicking here.
under shameless product reviews