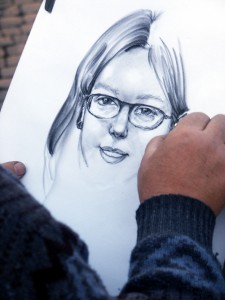 But, no, it is Perry who concerns me the most. Now that his brother has gone to stay and work with Lux on a room and board basis – a mutually beneficial arrangement which brings me great personal happiness – I fear Perry will wilt. Though there is a three year age difference between them, Perry has always been grounded in his brother's presence, if nowhere else. He is like a a fast-growing vine – a creeping Jenny, if you will – which, unchecked, will expand unendingly. Dell and I have only so much attention we can spend on him, only so much affection we can express, though certainly our love for him is without end. But his brother gave him safety to stop. With a word, with a gesture, with a whispered invitation to come and play, Andrew could rein him in.
Though Andrew was five when we took them in, Perry was only two, and I wonder now if that affected him more deeply than we originally thought. We thought Andrew would be the angry one. He used to scream at me and tell me that I wasn't his mother. Perry, on the other hand, attached himself to me from the first day and never let go. Perhaps his abandonment was pushed deep down in – or perhaps it's just his creative spirit. Perhaps my fears are baseless, and without his brother to live up to, Perry will thrive. Already, his father has ideas – his art has gotten to be quite realistic, and the judges have begun to hire artists to document crime scenes and public events. After the event in the third JD, it was decided that pod pics would no longer be admissible. Lux has an idea about artists of good character being sworn in like notaries in the old world, and he thinks maybe Perry could be one of the first.
From the Memoirs of Apple Howard, c. 2123
under ~Rach

/

The World of the 7th Judge... in the words of its citizens.