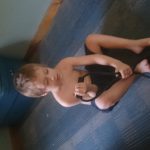 I'm new to the world of resistance bands but I thought this set was excellent. There are so many different ways to configure them and mix and match them up. I ended up using them attached to my desk chair to give my legs something to do while I was working. Includes a helpful book and a bag that everything fits back into. I have had the set for a little while and nothing has broken or shown any signs of poor quality. I would definitely buy this set again and I highly recommend it.
The bands are very, very strong. After months of being used by myself and my kids they show no wear whatsoever. That alone, I think, says something about the product.
I received a discount on this set in exchange for my honest review.
You can buy the #PinjianUltimateResistanceBandSet here.
under shameless product reviews